How to get to Eden Nature Park – A guide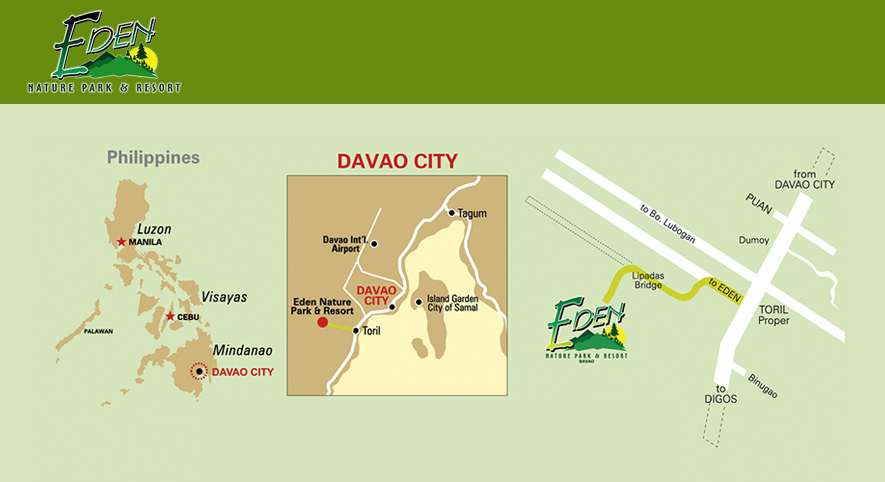 Airport Taxi
There are air-conditioned taxis queuing at the passenger pick-up area that will bring you to the resort. There are also the cheaper non-aircon ones that you can find in the departure level (upper level) that transport departing passengers. Exit from the departure lounge where you can find the taxis. The air-conditioned taxis charge a negotiable rate of PHP 1,000.00 while the non-aircon ones charge less than PHP 800.00 Before boarding, be sure that rental charges are clearly understood to avoid over-charging.
Public Transportation
Going to Toril is easy even if you don't have a car with you. For those who want to commute, you can ride a jeepney bound for Toril. Just tell the jeepney conductor to drop you off at Mercury Drug Store. There are single motorcycles waiting to be hired at P 80 per person to bring you right at the entrance of Eden Nature Park & Resort.
If you are coming from the South of Davao jeepneys bound for Toril are available at Claveria Street, Roxas Avenue and Quimpo Boulevard.
Driving From Davao City proper
If you have your own car or vehicle, Eden Nature Park & Resort is located just approximately 40 km. south of Davao City proper or less than two hours drive from the Davao International Airport. Driving towards Toril proper is Mercury Drugstore Crossing and you turn right. Some 20 km. further up is a fork road where you turn left towards Brgy. Eden. You won't miss the Eden logo at the entrance of the resort.
You can also download the PDF version of the map.